The United Kingdom (or UK) and Great Britain are often mistakenly used as synonyms. The UK is actually a large island encompassing England, Wales, and Scotland. Rather, the United Kingdom is a nation made up of four different nations: England, Wales, Scotland and Northern Ireland. Many foreigners currently live in the UK and many others dream of moving to the UK.
When I talk about moving to UK, I am referring primarily to moving to London. London is the most popular destination for foreigners emigrating to the UK because there are many job opportunities and the possibility to develop professionally – and in an international context. London is also a great place to start a business. Many trends and innovations are born here.
England has 52,000,000 inhabitants and is divided into 48 counties. The capital is London with more than 8 million inhabitants. The official language is English and the currency is the pound sterling.
Although England is not only composed of London, we will mainly deal with the capital, because it is certainly the city that offers more job opportunities in all areas and also has everything to offer in terms of leisure. Britain ranks sixth in the world in terms of the number of immigrants, about 8 million, of which 3 million live in London.
Moving to the UK, visas
Citizens of the EU/EFTA and other countries do not need a visa to enter the UK for stay of up to six months:
You do not need to apply for a visa if your stay is no longer than six months and is for activities such as tourism, visiting family and friends, short-term study programs, and work-related activities such as events and conferences.
Even if you do not need a visa, you must provide immigration officials with the required documents. You can check if you need a visa to go to the UK.
Citizens of other countries not only need a valid passport, but also need to apply for a visa before leaving the country or upon arrival. (depends on the country). The visa entitles you to stay for a maximum of six months, after which you must leave the country.
There are many different types of visas, depending on the purpose of your stay in the UK:
There are many types of visas, depending on the purpose of your staying in UK:
All the information about Visas can be found on the Government website
In any case, anyone, regardless of country (EU or non-EU citizen), who wants to move to and work in the UK must apply for a work visa, which is granted based on a points system. This system is not based on people's origin, but on their skills and talents.
Moving to UK, useful resources
Move to the UK finding accommodation
Finding a room or rental apartment will take at least a week or more, because you will have to look for accommodations and make appointments to see them. This will not be easy or cheap. It would be best if you stay with a friend while you look for accommodation. This will save you money and allow you to search at your leisure without rushing.
I advise you not to book your permanent accommodation from abroad for three good reasons:
it is always advisable to check the conditions of the accommodation personally
you run less risk of being cheated
you have a greater choice, both in terms of quality and quantity
Temporary accommodation can be:
The hostel, one of the most popular solutions. Note, however, that at certain times of the year (summer, Christmas vacations, etc.) it may be more difficult to find a bed.
Short-term rooms or apartments through websites like airbnb or similar.
Accommodation in exchange for a pet sitter. The owners provide you with their house for free when they are away on holiday, and in return you have to take care of their animals, plants, gardens, etc. This is a free accommodation solution that might be worth trying.
Permanent accommodation
Remember that rents in London have reached record highs. This poses the biggest problem for those who have decided to move with limited funds.
Prices can vary by area, but keep in mind that a room in a good area of London can cost between £500 and £800 per month (depending on location, conditions, single or double room, etc.). If you are far away from the central areas, you can certainly save on accommodation, but since most of the time the workplaces are located in the central areas, the transportation costs to reach your workplace will increase.
Renting an apartment is difficult when you have just moved. Landlords always ask for collateral (employment contract, bank account, references, etc.).
When signing the lease, make sure that:
The lease is registered in accordance with the law
Your landlord must protect your security deposit in a rental deposit system
Check the house for damage, note any damage or malfunctions. Make two copies and have the landlord sign them as well. For your protection when you leave the house
Always make payments by bank account. So that you have a trace
A useful guide: How to Rent, the government checklist for renting in England
Shelter has published a tube map showing only stations in London and its suburbs where renting is not prohibitively expensive. Zone 1 is virtually empty. A big white hole.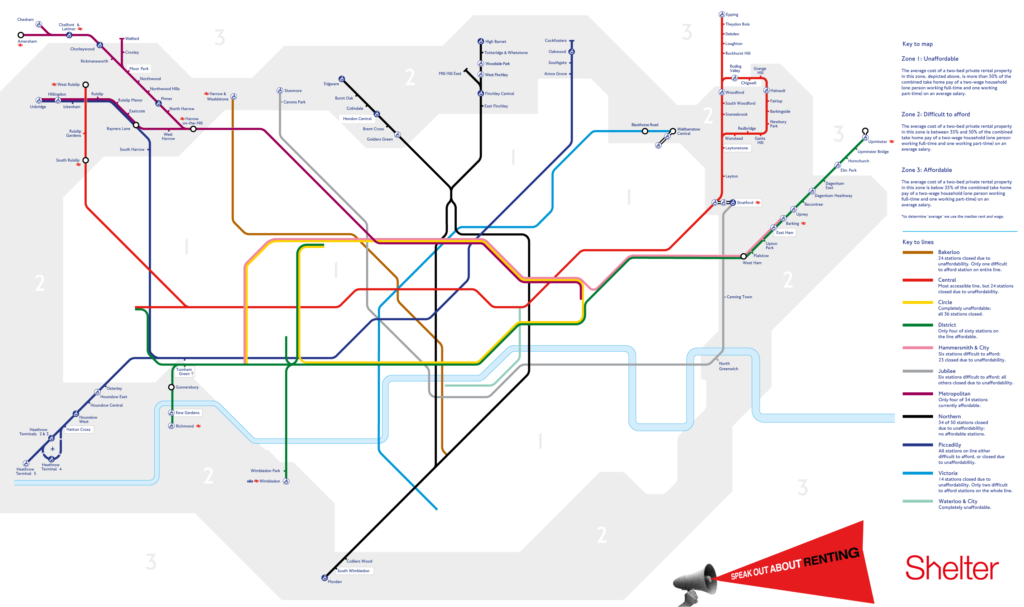 Moving to UK looking for accommodation
For accommodation in UK you can use the following options:
a) Rental websites:
b) Facebook groups in London or the UK
c) Universities, you can find rooms for rent on bulletin boards
d) Real estate agency, I would like to point out Zoopla, community of estate agents throughout the UK
Once you have found your home, you do not have to worry about anything. I hope this is the case, but if there are problems with your landlord, you can contac Shelter, the association that helps millions of tenants every year with advice, support and services. You can request free information by phone, chat or in their office.
Relocating to the UK, documents
National Insurance Number (NIN)
Once you have settled in the UK, you will need to apply for a National Insurance number to work. You can only start work without a National Insurance Number if you can prove that you have the right to work in the UK.
You can only apply for a National Insurance Number if you live in the UK and have the right to work in the UK.
To obtain a NIN, you can use one of the following documents when you apply online:
your passport
a biometric residence permit (BRP)
You can also use a national identity card:
a country in the European Union
Norway
Liechtenstein
Switzerland
If you do not have any of these documents, you have to go to nidirect to prove your identity.
Biometric Residence Permit (BRP)
A Biometric Residence Permit (BRP) is proof of the right to reside, work or study in the United Kingdom. It is an immigration document (the size of a credit card) that contains information such as:
Personal information such as name, date and place of birth
Biometric information such as fingerprints and photograph
Immigration status
May also contain other information
A biometric residence permit can be used to:
confirm your identity
the right to study, rent property or work in Great Britain
the right to any public service or benefit to which you're entitled
open a UK bank account
You'll normally be issued a BRP if you:
apply to come to the UK for more than 6 months
extend your visa for more than 6 months
apply for a place of business in the UK
If you are applying for a visa from outside the UK to come to the UK for 6 months or more, you must collect your BRP on arrival.
If you are applying for an extension of your visa within the UK, your BRP will be couriered to you.
It is possible to travel to the UK without a visa (certain countries) or with a visitor visa (other countries), and in the meantime look for a company willing to hire you. And when you have found it, you can apply for a visa.
Cost of living in London and UK
It is no secret at all that London is one of the most expensive cities in the world. Every year thousands upon thousands of people move to London, both from within the country and from abroad, for a wide variety of reasons: career advancement, opportunities, work, study, personal reasons, and so on.
And each of these new Londoners asks themselves a very specific question: how much do you need to earn per month to live in London?
Londoners believe that you need to earn more than 50,000 pounds a year to live a carefree life in the British capital. While the average salary in the UK is 40,000 pounds. Even considering the high cost of living in London, I would say that you can live well on 50,000 pounds.
According to the 2020 rankings, the city with the highest cost of living in the United Kingdom is London, and Belfast is second to last in the cost of living rankings. When rent costs are added to the cost of living, the most expensive city is again London, followed by Brighton, Oxford and Cambridge
Cost of living for one person. We can compare three cities: London, Manchester and Glasgow
Rental cost, (1 bedroom flat)
London: £1,500 – £2,000
Manchester: £750 – £1.000
Glasgow: £600 – £900
Food
London: £100 per week
Manchester & Glasgow: £80 per week
Public Transport
London: £200 – £300 per month
Manchester: £100
Glasgow: £100 (if you need it)
As you can see, the cost of living in London is on average 50% higher than in other cities.
Moving to the UK, conclusion
One question people ask is how much money it takes to live in the UK until you find a job. It's a fair question, considering that the UK, and London in particular, is not cheap. It's very personal and depends on each individual's needs. I have met people who arrived in London with €300/400 and made it. However, my advice is not to push your luck too much. In my opinion, you should have at least €2000 available. You have to keep in mind that the time it takes you to find a job can vary greatly and that in the meantime you will have to eat, travel, pay for accommodation, deal with various unexpected events, etc.