In this article I would like to analyze in detail the different ways to immigrate to the USA. There are many articles on the Internet and sometimes you read or hear absurd things. In any case, the Internet is a good way to gather information about immigration and working in the United States, but for in-depth advice it is always advisable to contact an immigration lawyer.
All types of visas can be applied for on your own, but for some types of visas, such as the O-1 visa, visa waiver, etc., it is advisable to seek the assistance of an immigration attorney if you want to increase your success rate. Unfortunately, attorneys cost a lot of money in the United States, so you should expect fees in the range of several thousand dollars.
Immigrate to the USA
Let us try to look at the issue realistically and start by saying that moving to the US to settle is not an easy path, not at all, but it is not impossible either. 99% of all foreigners living in the United States do not have such special skills. But they did it. With perseverance, determination, a clear strategy and a little luck, you too can get it.
We can say that there are three ways to move to the USA and work there (permanently):
1. Win a green card (the diversity lottery), which is open to anyone who meets the following requirements:
high school diploma
practice for at least two years
The lottery does not offer many guarantees due to its random nature, you have to try, but in the meantime it is also advisable to look for other ways. In any case, you can find information and advice about the Green Card on The American Dream website
2. Marry a U.S. citizen and obtain a green card.
Even this option does not offer many guarantees, because love is even more uncertain than the lottery.
3. Obtain a work visa with the possibility and hope of later applying for and obtaining a green card.
Only this option is the most realistic: you must first apply for a type of non-immigrant visa. These visas have restrictions:
local (you can only work or study for those who sponsor or approve you)
temporal (they have an expiration date)
These visas are the first step to climbing the mountain, i.e. getting the green card. On the government's website you can see the statistics with the number of visas assigned to each country.
Immigrate to the US, Student visa
Visa F-1 o M-1
F-1 or M-1visa, if you are a student, with good financial availability you can apply for:
the F-1 visa as a student for an academic course at a U.S. school (from elementary school to university) or for language courses
the M-1 visa for non-academic or vocational courses
Financial availability is important because the fees for these schools and colleges are high. But there are some so-called 'certificate programs" that last about a year and cost very little (about $7,000 per year). As a student, you can only work part-time on campus and with certain restrictions for the first year; starting in the second year, you can apply for the Optional Practical Training (OPT) that allows international students (with F visas) to work in the field for up to 12 months or more (STEM). (In practice, it allows you to work).
At this stage of OPT you need to play your cards right to find a sponsor. The best way to move and work in the USA is the following: student (F1 for PhD), — temporary work (OPT), — work visa application (H1-B), — green card. This is the best way for those who want to move to the USA, because apart from rare exceptions like the IT sector, hardly any company will sponsor you without you working for them and proving your qualities.
US universities always welcome good students. Once in the US, you have to work hard and prove your worth, you have to be ready to fight against tough competition. After getting a STEM Master's degree, it is not hard to find a job through OPT, and then you have more than two years to get a H1-B. Unfortunately, the Master's is expensive, but there are scholarships and loans available.
With a salary in the technical/scientific field, a university loan for a master's degree can be repaid quickly. Universities are really the last outpost of immigration, they still allow you to study in the US, they are expensive, you have to make some sacrifices, but they are the only way if you want to have a good chance of staying in the United States. Oh, I forgot the most important thing: you must have the necessary qualities.
To obtain a study visa, you must prove that you have the financial means to support yourself for the entire duration of the course (on average $30,000/year) in your own bank account or with someone who will vouch for you.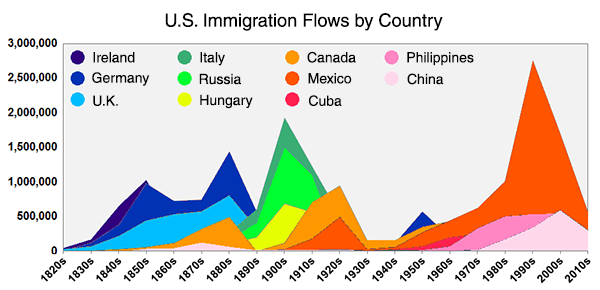 Immigrate to the USA, Exchange Visitor visa
J-1 visa, Exchange Visitor Program Visa for individuals wishing to participate in cultural exchange programs sponsored by the U.S. Department of State. To obtain this visa, you must find an organization recognized by the U.S. Department of State to issue you the DS -2019 form, which is the official document for applying for this type of visa.
To apply for the J-1, you must be proficient in English and demonstrate that you have sufficient financial resources to support yourself. The amount of your support is variable and depends on the type of program, your occupation, and the city you will be living in, on average it is between $1,000 and $2,000 per month. This amount may be in your bank account or in the account of another person who will act as a guarantor. It can also come from a stipend or salary paid by the cultural exchange programs.
Remember that many programs come with a salary. The times for obtaining the visa can vary depending on the program, ranging from a few weeks to 3/4 months of waiting. The duration of the visa depends on the program chosen.
These are the 15 programs and next to them is the number of government designated sponsor agencies to which one can apply:
Au Pair: (15 organizations) for people between 18 and 26 years old with secondary education, with a duration from 12 months to a maximum of 24 months
Camp Counsellor: (23 organizations) for university students, for a maximum period of 24 months
University student: (850 organizations) for university students
Government Guest: (25 organizations) for distinguished individuals, at professional meetings and conferences
Internships (trainees): (89 organizations) for students enrolled in a foreign university or who have completed their studies no more than 12 months prior to the start of the internship
International visitors: (8 organizations) for persons with special skills and abilities, granted for a maximum of one year
Physicians: (1 organization) for foreign physicians who wish to participate in education and training programmes at U.S. universities
Professors: (996 organizations) for university instructors and professors
Researchers: (996 organizations) for university researchers
High school students: (75 organizations) for students between the ages of 15 and 18 who want to study in a school and live with an American family or in an accredited university
Short-term scholars: (865 organizations) for professors and researchers who wish to travel to the United States for a short-term stay to attend lectures, conferences, research, etc.
Professionals: (435 organizations) for experts in a specific field, for a maximum duration of one year
Summer jobs: (39 organizations) short internship programme (4 summer months). To apply, you must be a student or graduate for no more than one year
Teachers: (63 organizations) for primary or secondary teachers, with at least three years of teaching or professional experience
Professional internships (trainees): (95 organizations) for university graduates who are not in the U.S. and have at least one year of professional experience in the field, including experience outside the U.S. In the absence of a university degree, at least 5 years of work experience is required
See all the programs, for information on the duration and requirements needed to participate in a particular program (age, qualifications, etc.).
So, to get this visa, you must have a good command of English and find a sponsor and an employer (host), although these two things can coincide. The visa holder can be accompanied by his/her spouse and children, except in certain cases. The cost of the internships, which can be several thousand dollars depending on the program, can be covered by you, the company, or 50% depending on the type of program and the agreements made. In case of doubt, please contact the relevant consulate, which will be able to provide you with all the information.
For those who want to work in the United States, this is an easy way to enter. Many companies offer this visa because it provides access to good, low-cost university graduates. How to stay after the visa expires is an issue we will address later.
You may apply for a J-1 visa to complete an internship with an approved U.S. company. Interns (students or graduates of non-U.S. universities) or trainees (non-U.S. graduates with at least one year of work experience or at least 5 years of work experience).
Immigrate to US, find a J-1 visa sponsor
To find a sponsor you have two ways:
You can search and contact the accredited companies yourself. If your application is accepted, the company where you work is also the sponsor for the visa. The company must handle all the procedures for issuing the visa. This is the cheapest solution. I recommend you try this way first, and if nothing comes up, contact an agency
You can contact an approved agency (sponsor visa provider), which for a registration fee will provide you with help in preparing your resume, provide you with catalogs and databases, find the host company and sell you the visa. So the agency will be your sponsor, but you will work in another company (host company)
At the end of the internship, it is possible to extend your stay in two ways:
1. Extension of the duration of the visa
See the government website for all visa renewal information. In some programs, there is a clause that you must return to your country after your visa expires and wait two years before returning to the US. With the help of a good immigration lawyer and a mountain of documents, even this restriction can be overcome. You can also try to do everything yourself, but that is more complicated. Here is the US government website with information on this.
2. Changing the type of visa
It is not easy because of the cost and difficulty of the process. In any case, it will be your qualities and skills that will make the company invest in you. If the company decides to take this step, it is possible that you will continue to be sponsored in the USA. In this case, you can submit an application:
H-1B visa, (early April), with the lottery, although it is never a pleasant thing
the green card, with Form I-140, with a long and expensive procedure
Immigrate to the USA, Specialty occupations visa
Immigrate to US, visa H-1B
Visa H-1B, to obtain this work visa, you must have a professional degree and specific skills (preferably in the technical/scientific, engineering or IT field) and find a sponsor. Theoretically, it is also possible to apply without a degree, but with at least 10 years of experience in your professional field. In this case, applications are reviewed very carefully and it is very difficult to obtain a visa.
These visas are initially issued for a maximum of three years and can be extended for another three years. With this visa, it is possible to obtain permanent resident status while in the US.
Immigrate to USA, find an H-1B visa sponsor
build a network of professional contacts with the help of Linkedin
search the Internet for companies that have openings for international workers and send your application. You can start with companies that have already sponsored in the past. It is important that your CV and cover letter are written according to the Anglo-Saxon standard
attend conferences in the United States, as this will help you meet people who can recommend you to a company. One of the preferred tools for recruiting applicants from abroad is "referral"
participate in an international project
Here's my advice: specialize in a niche. Whether you are IT engineer or architect, choose a niche and specialize to the maximum. The time of generalists is over. For every job opening, no matter the field, dozens of resumes come in. And it will be the strong skills in a specific niche that will make the difference.
You really have to make yourself unique and attractive for a company to decide to sponsor you while you are still in another country. They tend not to sponsor if they can find someone locally. They only sponsor when they can not find anyone and they desperately need someone. And if you think about it, they are not completely wrong, because the sponsorship process costs 10/20 thousand dollars, without being sure that you will actually get the visa, because the applications exceed the number of available visas by 3-4 times.
If you are selected, you will be contacted for an interview via Skype or phone. If you are suitable, you could also be invited for an on-site interview, with airfare expenses covered. If you pass this step as well, the process of obtaining the visa will begin.
All this usually happens between November and March, before the April draw. It is not so easy to get this visa, because there are usually over 200,000 applicants for the 85,000 available visas, of which 20,000 are reserved for foreign students with advanced degrees (masters, PhD, etc. from US universities). So they have two chances: if they are not selected in the lottery of the 20,000, they will be included in the general lottery of the remaining 65,000.
Immigrate to US, Visa H1-B Cap
H1-B Visa Cap, is required by recognized non-profit organizations (universities or other institutions). These organizations are exempt from the annual limit. This means that they can file a petition for a foreign worker at any time of the year, regardless of whether the H-1B limit has already been reached.
That's the positive aspect: you do not have to play the lottery, the negative aspect: for the entire duration of the visa (6 years), you cannot change jobs unless you change to another nonprofit organization. If you want to change to a traditional company, you have to participate in the green card lottery on April 1.
Take a look at the List of organizations offering H1-B Cap visas
For the equivalence of your qualifications, you must apply to certain agencies, such as WES. You will need to provide certain official documents (in English), which you can obtain from your university. The recognition procedure costs about $250-300 in total.
Immigrate to the USA, Unskilled worker visa
Immigrate to the United States, visa H-2A
Visa H-2A, is for temporary or seasonal farm workers for a few months. Usually during the harvest season when American labor is insufficient. They are issued initially for one year and may be renewed for two additional years.
Immigrate to the USA, visa H-2B
Visa H-2B, is for workers who come to the United States to fill jobs for which there is a recognized temporary shortage of American workers. No college degree is required to perform these jobs. They include all low- and medium-skilled occupations. They are issued initially for one year and may be renewed for two additional years. The time for issuing these visas is very long. About 65,000 visas are issued annually.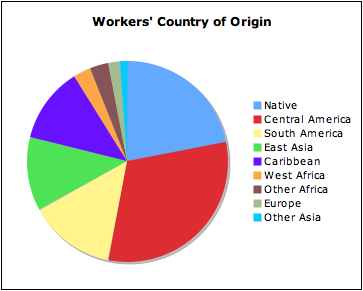 Immigrate to the USA, Intracompany transferee visa
Immigrate to the United States, visa L-1B
Visa L-1B, companies do not tend to sponsor because of the cost and uncertainty of the outcome unless they are in dire straits. It is easier for them to transfer employees from a European/Asian to a U.S. office on an L-1 visa. So it may happen that a multinational company does not sponsor you, but hires you directly in a subsidiary in your country and transfers you to America after a few years on an L1-B visa (duration 5 years), or an L1-A, (duration 7 years) for executive functions.
The easiest way is still to transfer employees from a foreign branch of a company to a branch in the United States. My advice is to find a job in any country in a multinational company with branches (or headquarters) also in the U.S. and then apply for a transfer to the United States.
The only drawback to this type of visa is that you are closely tied to the company that sponsored you. If you resign or the company fires you, you will have to leave the United States. Therefore, start the process of obtaining a green card as soon as you arrive in the U.S. (this will take a few years unless you have exceptional and documented skills), and once you receive it, you can do whatever you want.
Immigrate to US, Individuals with extraordinary ability or achievement visa
Immigrate to the United States, visa O-1
Visa O-1, for people with extraordinary abilities. So, artists, journalists, actors, singers, athletes, etc. If you have credentials, publications, certified conferences, an internet presence, etc., you can consider this type of visa if you are willing to live in the US solely off your art. To get it, you need a sponsor. An acquaintance of mine, an architect, got it, he had several publications on the internet and hired a good law firm.
Immigrate to the USA, Disney visa
Immigrate to the US, visa Q-1
Visa Q-1, there are some well-known companies, such as Disney, that issue one-year work visas even to unskilled or skilled people. These are well-paying jobs for low-skilled people. To get hired, you have to go through long but not too difficult steps. The only disadvantage of this visa is that it can be renewed only after one year. All information (for European citizens) can be found on the International service agency dedicated to hiring personnel for Disney.
Immigrate to the Unite States, Business visa
Immigrate to the US, visa E-2
Visa E-2, is suitable for those who have capital to invest (at least $100,000), and entrepreneurial ability to start a business.
Immigrate to the USA, working in Hospitality
As we have seen, the U.S. system is always looking for new brains, so people with educational degrees and high skills have more opportunities in the scientific and technological sectors, while it is harder for all other jobs. Even in the hospitality industry, it is not easy to find a job in the United States.
There are two ways:
J-1 (trainee) visa, if you meet the requirements, you can complete an 18-month paid internship in an American hotel. You can apply for such an internship through an accredited organization. After 18 months, the visa can be extended.Later, with the help of an immigration attorney, you can check if it is possible to regularize your stay permanently
H2-B visa, you can contact the companies directly, but it is very difficult. The only professionals that can be sponsored are usually: cooks, pizza makers, pastry chefs and ice cream makers, professionals that cannot be found locally. In any case, hardly anyone would sponsor a professional without trying it first. So either you have someone vouching for you, or you have to travel to the U.S. on a tourist visa, and even if that would be prohibited, take the 90 days to convince someone that you are the right person to sponsor
You can travel to the United States for tourist purposes (fill out the ESTA form or apply for a tourist visa). You may be wondering what the tourist visa has to do with working and moving to the US. I will explain in a moment. There are over 10 million illegal immigrants in the United States, many of whom enter only as tourists. Since it is not possible to find sponsors for almost all low-skilled jobs, many work illegally as waiters or in restaurant kitchens. It must be said that a large portion of the personnel working in the hospitality industry are illegal.
If one is well behaved and commits no crime, one can go on for years hoping to find an American to marry in the meantime or to raise enough money for a good immigration lawyer to find some 'loophole' to get residency. Those who are discovered, however, are sent back. Those who have been in the country illegally for less than a year cannot get a visa to the United States for 3 years. Those who have been in the country for more than a year cannot obtain a visa for 10 years.
As an illegal immigrant, you have to live without health insurance, without being able to get a driver's license, and always being careful not to have any problems lest your illegal status be discovered. You will live in fear of not being stopped and checked by the police, you cannot find regular work, and you cannot leave the country. This is the life of illegal immigrants.
The situation is different if you look for any sponsors during your tourist stay, which would be theoretically forbidden, but practically speaking, there is no risk at all.
To sum up, the USA is not for everyone: you need money, qualifications, the will to work, talent and a bit of luck. In short, it is a beautiful and fascinating challenge.