Doing business in Spain, that is, starting and running a business, is quite easy. In the World Bank's Ease of Doing Business ranking, Spain ranks thirtieth out of 190 countries.
The plus points are:
An acceptable bureaucracy
A fair tax burden
A non-repressive attitude of the tax authority
Low labor costs
Economic relief in the first two years of the company's activity
Once you realize this, the activity does not necessarily work automatically. But if you find the right location for your business and work hard and professionally, the results will not be long in coming.
Foreigners in Spain mainly carry out activities in the field of commerce and hospitality.
I will not list here the different types of businesses that exist in Spain, with their financial and legal aspects. If you intend to start a business, the first thing you should do is consult a good tax advisor and find out about the type of company that best suits your needs.
I will never tire of repeating that a good tax advisor is an asset to the business and helps its growth. A bad tax advisor, on the other hand, is a detriment that can lead to ruin. So take the time you need for this fundamental aspect. Talk to other compatriots who have businesses in the area, get informed and then decide.
The second aspect to consider is the location of the place, depending on the activity you want to carry out. In this case, it would be advisable to know the area where you want to open, in order to evaluate the advantages and disadvantages of the location. Do not rely too much on the agencies for which the premises they manage are all excellent and located in exceptional areas. If you know little about the city, try to inquire with neighbors because the place is for sale and with other compatriots who have businesses in the area.
Try to gather as much information as possible before starting any activity. The best solution would be to live in the city. If you work for a year as an employee in the industry where you want to open your business, you will be able to get to know the city well and understand which areas are best and which to avoid, but also which businesses might work and which not.
Often you start with a business idea and then find out to your cost that the idea does not work because the customers have different habits, different tastes, and different traditions. All things that you can only judge if you live and work there.
As I mentioned before, I will not go into technical aspects, because you will have to discuss them directly with your tax advisor or with the technical staff he/she suggests. I will limit myself to briefly mentioning the business license for restaurants.
In Barcelona, for example, the classification of hospitality licenses is of the type: C1, C2, C3, although in reality the designations have changed, but all real estate companies continue to use them.
former C1 license
Bar without restaurant service
Hot and cold tapas and sandwiches (raw) can be served
Hot dishes that are not prepared on site can be served
You can have equipment for heating, but not for cooking
Fume hood is not required,
former C2 license
Bar with small catering service
Hot and cold tapas and sandwiches (raw) can be served
Hot dishes not prepared on site can be served.
You can have equipment for heating and cooking, such as electric plates with a power of no more than 3 kW
Fume hood is not required, it is enough to filter the fumes from inside the room with activated carbon filters.
former C3 license
Restaurant
Restaurant in which all or part of the food served in the restaurant is prepared in the kitchen itself
An approved smoke evacuation system is required for this type of restaurant
In all autonomous communities there are different types of permits. To avoid unpleasant surprises, it is advisable to discuss with your tax advisor whether the type of permit at hand is suitable for your type of business.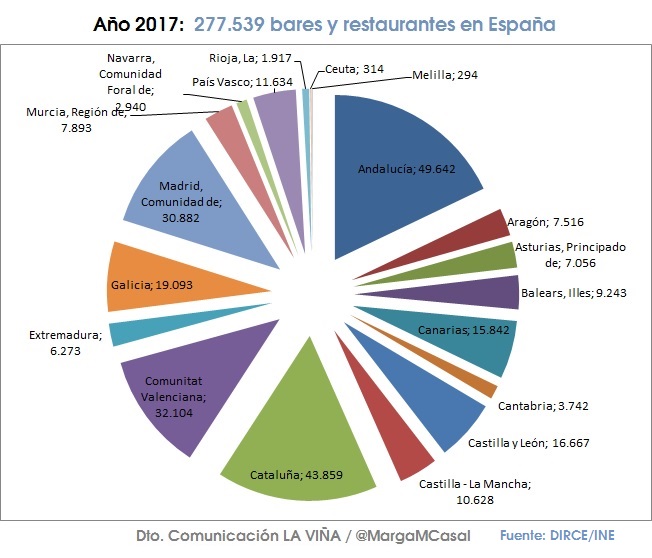 For all information or if you need assistance in opening a new business, you can contact free of charge:
to the SEPE offices in your city
to the Cámara de Comercio at the national level
to the Municipal Trade Offices, below are a series of links for the main cities:
Barcelona
Canal Empresa, trade office, all information can be found on their website
Barcelona Activa, another municipal entity with resources and professionals available free of charge to anyone to get information, advice and help in starting a business in Barcelona,
Turismo Barcelona, interesting report about the tourism sector in Barcelona
Madrid, Oficina de Comercio, all the information can be found on the website
Valencia, Oficina Comercial, all information can be found on the website
Seville, Oficina Comercial, all the information you will find in the One-Stop Business window
Bilbao, Cámara de Comercio, all information can be found on their website
Balearic Islands, Oficina Comercial, all information can be found on their website
Canary Islands, Oficina Comercial, all information can be found on its website