If you are thinking of working in Spain, you should have your CV translated into both Spanish and English before you leave (in case you are applying to an international company).
Remember that although it is theoretically possible to sign an employment contract without the NIE (Foreign Person Identification Number), in practice you will always be asked for the NIE at the interview, so it would be advisable to get this document before you start your job search.
Working in Spain
EU-EEA citizens do not need a visa to work in Spain.
Non-EU citizens need a visa to work in Spain, there are different types of work visas:
You have several options in your job search:
You can hand deliver your CV to companies. Remember you need to sell yourself and one of the best ways to do that is to introduce yourself along with your resume
Search the Internet, there are many websites with job openings
Look for contacts with other people. Remember that word of mouth is still a good way to find work. Try to expand your circle of acquaintances to spread the word. If someone learns of a job opening, they will let you know
Self application, on El Economist website, Empresite, you will find the largest database of Spanish companies. You can do a search and submit your CV
In most cases, unless you are a skilled worker, the first jobs you will have to do will be hospitality (hosteleria) jobs, which are in high demand during the tourist season.
Keep in mind that working as a waiter very often requires English or other language skills in addition to Spanish, although I know of people who have found work without knowing Spanish or English (but this is certainly not the rule). Keep in mind that the average salary of a waiter is around €1,200 / €1,3000 per month.
Sometimes it is possible to find work in call centers or other companies that are looking for native speakers.
Once you have solved the problem of your survival, you can start learning the language and looking for another job, the one you like best or in which you have a diploma.
If you are a qualified worker, create a good profile and make the most of LinkedIn.
Working in Spain: the situation
Thirteen Spanish municipalities have a GDP per capita lower than the European Community average. Moreover, there are very different realities in Spain, as you can see on the map.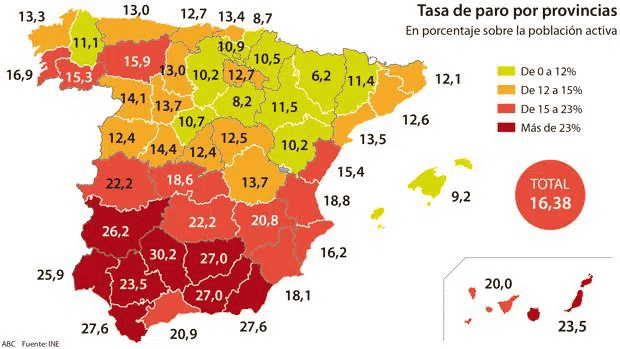 As you can see from the data, Spain is not an Eldorado, but I would like to recommend this article that I found on the Internet:
"Sometimes it is right to encourage those who ask how the job situation is in Spain. Those who want to move should know that if you are motivated and determined and really have the desire to look for work, if you are willing to deliver your resume in person every day, if you are willing to look for jobs even twice a day on the Internet, if you are willing to do any work at the beginning, if you have a lot of perseverance, then the same desire that you have put so much effort will reward you. Personal experience."
Finally, I would like to point out a guide from the Ministry of Labour and Immigration that contains useful information about working in Spain.
For the recognition of university and non-university degrees, you can visit the website of the Spanish Naric, the national agency designated by the Spanish government for the recognition of international qualifications and degrees.
Work in Spain – Public employment offices
For your job search in Spain, you can also use the public employment offices:
Sepe
Public Employment Services, (autonomous communities)
You can find all the information about these offices in the corresponding article.
Looking for work in Spain
Linkedin
I start with linkedin, don't forget to use this social network for your job search
English website
Eures
Eures, the European job search website
Job search apps
Job search website
Below you will find the most important websites for finding a job in Spain. To make your search easier, I have also divided them into categories. The websites are numerous because each one has its own characteristics, some are more specialized in certain types of work than others. Therefore, I recommend you to search for jobs on many websites in the beginning. Once you know which websites are best for your search, you can choose 3 or 4, register and create a job alert.
Empleate, Spanish government website (sepe), with all job opening in Spain
Infojobs, popular online recruitment agency in Spain
Milanuncios, the most popular Spanish classifieds website
Jobatus, job search engine
Primerempleo, job offers for young people especially in Barcelona and Madrid, you can also insert your CV
Info Empleo, job ads for young people
Busco Job, Spanish job search engine
Job Rapido, job search engine, widely used in Spain
Trabajos, one of the first Spanish job websites
Recruitment agencies
Adecco,the most important recruitment agency in the world
Talent Search, recruitment agency
Gi Group, international recruitment agency
Ranstad, international recruitment agency
Iman, recruitment agency
Trabajo Temporal, recruitng agency in Málaga, Córdoba, Granada e Madrid
Gruppo Norte, recruitment agency
Noa's, recruitment agency
Nortempo, recruitment agency
Synergie, international recruitment agency
Iberempleos, recruitment agency
Balearic islands job search website
Canary islands job search website
Costa del sol job search website
Costa blanca job search website
Parados, vacancies in Valencia, Alicante, etc.
Job search websites for specific careers
Tourism
Turijob, jobs in tourism, hospitality, tour guide, entertainment, etc.
JCI, job offers in the tourism sector and beyond
Hospitality
Hosteleo, job offers in hospitality
Gastroempleo, job offers in hospitality
AEDH, job vacancies from the Spanish hotel directors association website
Housework
Familiafacil, job offers from private individuals, (house cleaning, elderly care, pet sitters, babysitters, gardeners, hairdressers, personal trainers, IT technicians, physiotherapists / masseurs, etc.)
Hostess
Yobalia, job offers as promoter and hostess on fairs, events, etc.
Internet Technology
Health
Agriculture
Teaching
Construction
Headhunter
Shoot, looking for professionals who want to move from Spain to Germany
Hays Executive, vacancies for executive
Jobs for students and recent graduates
I would like to refer you to this website, which contains all the companies represented in Spain. If you are interested in a specific company or looking for a company to send your resume to, the Universia website is for you.
Working in Spain in tourism
Spain is the second largest tourist destination in the world. In 2019 (before the Covid), it was visited by over 80 million tourists. Tourists came from the United Kingdom with over 18 million tourists, Germany with over 11 million and France with also over 11 million tourists. The total spending of tourists amounted to almost 90 billion euros, a record value that represents an increase of 3.5% compared to 2018. So finding a job in tourism in Spain is quite easy.
As for the autonomous communities, Catalonia is the most visited destination with 18 million tourists, second are the Balearic Islands with 13 million and then the Canary Islands, also with around 13 million tourists. Andalusia follows with 11 million, then the Valencian Community with 8 million and Madrid with about 6 million tourists.
Tourism is an important sector of the Spanish economy, accounting for over 11% of total GDP. Spain is the country in the world where tourism has the greatest impact on the national GDP.
Tourism represents a significant source of employment. in 2018, about 2.5 million people were employed in tourism, 3.7% more than the previous year. It is expected that the number of people employed in tourism will reach 3 million in 2027. The tourism sector plays a key role in the social integration of immigrants. Almost 20% of tourism and hospitality workers are born outside Spain, a percentage that drops to 10% in other sectors.
Tourism sector and the number of employees in Spain:
hospitality industry: 1.2 million employees
passenger transport: 550 thousand employees
recreational activities, sports and entertainment: 260 thousand employees
accommodation services: 240 thousand employees
transport-related sectors: 170 thousand employees
vehicle rental companies: 95 thousand employees
travel agencies and tour operators. 55 thousand employees
air transport sector: 30 thousand employees
sea transport sector: 1 thousand employees
Official statistics show that despite the fact that most people think that jobs in tourism are underpaid, wages in this sector are quite high compared to other jobs with similar characteristics.
Work in Spain in the tourism sector, wages
Here are some examples of monthly net salaries of some tourism jobs:
receptionist: in a 4-star hotel, around €1200 / € 1,300
spanish cook: around € 1,200 / € 1,500
waiter: around € 1,200 / € 1,300
housekeeping: around 1,000 € / 1,200 €
The wages are the average ones and may change according to the city, experience and qualifications.
For those who want to know more about the tourism sector, I would like to refer to a study on work in tourism, in which all aspects are exhaustively analyzed (in Spanish).
Looking for work in the hospitality industry in Spain
First of all, you should be aware that you need to know Spanish to work in the Spanish hospitality industry. Unless you are working as a pizza maker or a cook in an English pub, Spanish and English skills are essential to have a good chance of getting a job.
Truth be told, I have met people who got jobs as waiters without knowing a single word of Spanish, but they did know English. This means that even without knowing Spanish it is more difficult, but not impossible, to find work. Especially during the summer season. Before you start looking for a job, you need to get the NIE. Then you can start looking for a job:
1 You can hand out your resume in person or email it to restaurants or hotels:
Yellow Pages (paginas amarillas), restaurants or hotels in Spain
Spanish hotel
International hotel chains
2 public employment offices, in all major Spanish cities
Working in hotel in Spain
Entertainment jobs
Entertainment, entertainment and animation jobs in Spain and beyond
Animajobs, job offers for entertainers or those who want to become entertainers
Evento, event jobs in major Spanish cities
Acttiv, animation agency based in Madrid
AEIOU, Spanish kid's animation company
I also point out two of the largest tourist entertainment agencies in Europe. They are based in Switzerland and work in many countries around the world, including Spain. They are looking for employees such as: Dancers, singers, sports instructors, photographers, pianists, jugglers, acrobats and other entertainment figures.
Tourism, together with IT, consulting, marketing, engineering and finance, offers the best job prospects for the future.
Working in Spain in tourism, conclusion
Working in tourism in Spain is quite easy if you know your job and know some foreign languages (especially English). At least for the summer season. In any case, it will be much easier if you have the NIE.
Very often applications from abroad are not considered, because if you are not a highly qualified worker, there are many people in Spain who are willing to do the job. The employer does not have to wait for someone who is still in another country. Also, if you are in Spain, you will have the opportunity to interview immediately.