Canada is a country that reminds one of untouched nature, vast uninhabited areas, dense forests and long winters. This is true, but it is equally true that there are also large and very modern metropolises. Canada is one of the top ten countries in the world to live in, according to the United Nations. An excellent education system, low crime, little corruption and a stable economy: these are the reasons why many people want to move to Canada.
The second largest country in the world after Russia, it is slightly larger than the United States, but has almost ten times fewer inhabitants (38 million) and is concentrated mainly in large cities. Its territory is divided into 13 regions (10 provinces and 3 territories), the capital is Ottawa, the most populous city is Toronto (over 2.5 million inhabitants). Other important cities are Montreal, the capital of Québec (French-speaking territory), Vancouver and Calgary, the capital of Alberta, where 70% of the country's oil and gas reserves are located.
The country is part of the Commonwealth and its currency is the Canadian dollar. There are two official languages in Canada: English and French. 58% of Canadians are native English speakers, 22% are native French speakers, and the remaining 20% are German, Italian, etc. (over 200 languages are spoken in Canada).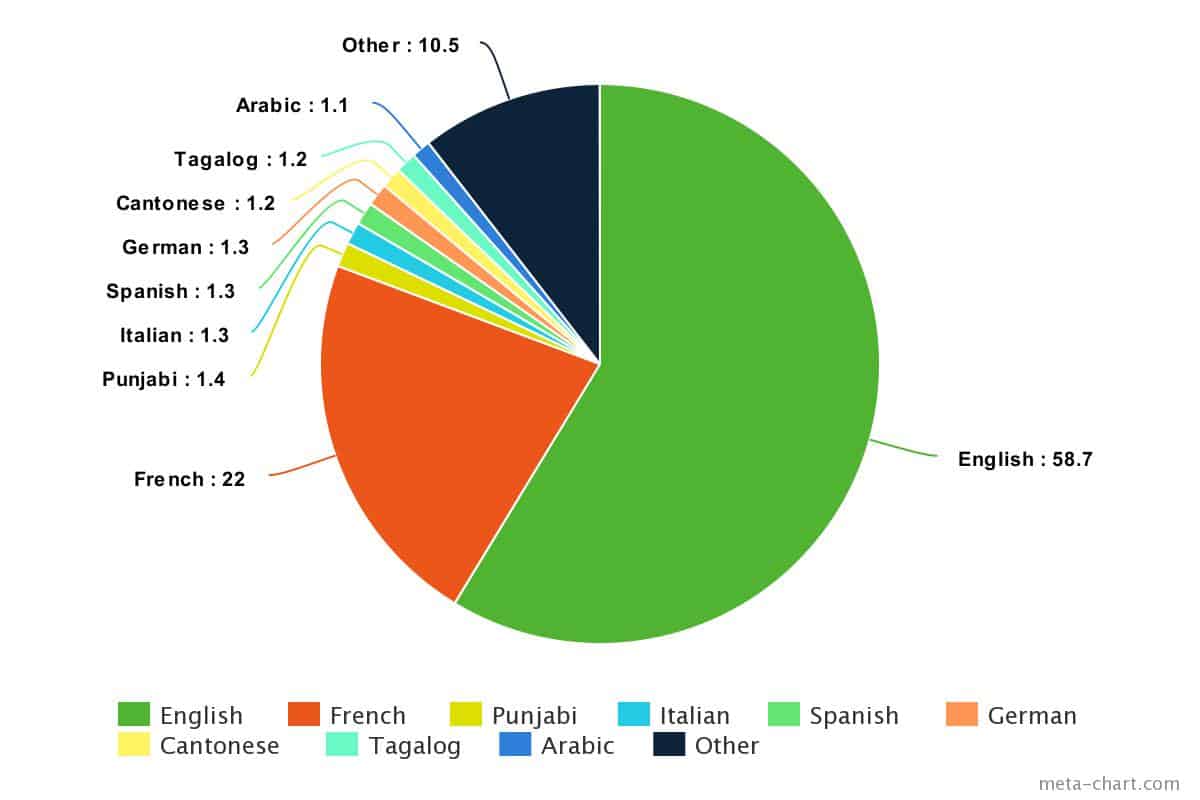 The total number of immigrants is over 7.5 million (21% of the population). This multiethnic and multicultural environment makes the country very hospitable and one of the least xenophobic countries in the world.
Even today, although things have changed compared to a few years ago, it is not impossible for skilled workers to move to Canada. In the next three years, the country seems ready to welcome a million new immigrants.
This is one of my favorite countries. I would have considered for my move if it were not for the weather, a fundamental factor for me.
Move to Canada
You can enter Canada in three ways:
For tourist purposes. Depending on your citizenship, you can apply for a visa or an electronic travel authorization (eTA), which is valid for five years or until your passport expires. It allows you to stay in the country for 90 days and can be extended for another 90 days. You cannot do business with this visa, but you can look around to see if you like the place, assess the job market and look for a sponsor.
For work purposes, in this case, you need to get a visa (there are different types) related to a specific work program. There are two ways to obtain a work visa:
you have a contract or a commitment for a work contract from a Canadian company, (sponsor)
you have a qualification and your job is on the Canada skills shortage list
Remember that Canadian citizens and anyone with permanent residency have the right to fill the vacancies first. Only then Immigration will grant permission for a foreign national (LMI) to fill the vacancies.
For study purposes. Studying in Canada can be a way to work and live here. Attending a course (if you study for at least 8 months), you can apply for a Post Graduate Work Visa, that allows you to work in Canada for up to three years and later apply for permanent residency.
Canada has an excellent education system with universities that are among the best in the world and state-of-the-art campuses. You also have the opportunity to work part-time while studying. As an alternative to college, you can choose to attend college (post-secondary technical institute), and often the college will find a job for you after you graduate.
If you are interested in manual labor, (electrician, plumber, carpenter), you can enroll in a vocational school, and in this case you are sure to get the job, because there is a great demand with excellent earning opportunities.
Move to Canada, useful resources
Pre arrival service, Canadian government website, includes a list of agencies that offer relocation service in Canada
Newcomer service, Canadian government website, contains a list of agencies that provide relocation assistance in job search, language study, housing, etc.
Canada, contains all the information you need to move and work in Canada
Québec, website of the regional government of Québec with information on moving and working in Québec. The Province of Québechas a different procedure for work and study permits
Welcome to Canada, what you need know, a useful guide
Preparing for your move to Canada, a short guide
Welcome to Alberta, information for newcomers
FIRST DAYS IN ONTARIO, information for newcomers
Studying in Canada
For those who wish to study in Canada, there are two options:
Participate in an exchange program based on agreements between foreign and Canadian institutions (in this case you must ask your school)
Apply as an independent student for admission to a study program for international students at a Canadian college/college
Accommodation and tuition fees for international students depend on the location, institution and program of study, but are lower than in other English-speaking countries such as the United States and the United Kingdom. In any case, expect to pay $10,000/year for college and $15,000/year for college, as unfortunately tuition for international students is much higher than for Canadian students. Add to that the cost of room and board, which you can cover with a part-time job.
For all scholarships, you can check the government website. There is also the possibility of doing a 12-month internship in Canada in a company related to your field of study.
These are the only ways to enter Canada. Watch for emails informing you of a self-proclaimed "visa lottery program" through which you can obtain residency. This program does not exist. It is simply a scam.
Move to Canada, finding accommodation
Most of the available apartments are four-bedroom apartments, with the exception of a few studios. Apartments tend to be expensive, and owners require bank guarantees and/or references from your previous landlords.
The best way, especially in big cities, is to rent a room in a shared flat. The larger apartments, which have several rooms, are rented to tenants who share the kitchen and bathroom. Often the apartments in the city centre are not advertised on the Internet, but only with a simple sign on the wall.
Here are the main Canadian real estate websites:
Padmapper, real estate web site, real estate all over canada
Realtor, real estate website
Rent Board, popular real estate website
Kijiji, classifieds website
iRoommates, shared flats
CMHC, housuing national agency, Canada Mortgage and Housing Corporation, which provides housing assitance and refferals in Canada
Once you arrive in Canada, the first thing you need to do is apply for a social security number (SIN), a nine-digit number that you will need to work in Canada or to access government programs and benefits.
Moving to Canada, Health Care
You will need to apply for public health care, which covers most but not all medical expenses, so it may make sense to purchase private insurance. You can get the public health card application form at a doctor's office, hospital, pharmacy, or immigration office. You can also submit your application online. In general, temporary workers with contracts of more than 6 months are also eligible for public health coverage.
Finally, you must apply for a permanent resident card. You can apply for the Permanent Resident Card after you have lived and worked in Canada for a certain period of time.
Move to Canada, conclusion
Moving to Canada is anything but easy, which is why many people use immigration agencies. However, it is easy to come across self-proclaimed agencies on the Internet that promise to get you a visa, housing and work in exchange for paying large amounts of money. In any case, be careful, because they are just scams.
No agency can promise or secure a visa, as the final decision is made by the Canadian government, which evaluates your chances of getting a visa based on your age, skills, and budget. So, it is never a given that you will be able to obtain a visa and that any agency can 'guarantee" this. Do not be lured by the illusion of an easy visa by sending money to someone who then vanishes into thin air.
No reputable and genuine agency will ever promise you a visa, accommodation and a job. The agencies will help you to complete the procedures correctly and quickly and advise you on how best to do everything.
Always check your chances of getting a visa through institutional channels
You should also know that in order to emigrate you will need a reasonable amount of money ($10,000) when you come to Canada to look for work to prove that you can support yourself for at least two/three months while you look for a job.
Your level of English depends on what you plan to do. If you want to enter Canada on a working holiday visa, you do not need any special language skills, but you need to know that you will need good English skills if you do not want to spend your entire stay washing dishes or sweeping floors to find good jobs.
On the other hand, if you want to study, all universities require a minimum score on the IELTS / TOEFL, which varies depending on the university and the programme.
As a rule, unless a foreign degree is very specific, Canadian employers do not pay much attention to it. They are mainly interested in your work experience and your Canadian degree. So if you want to live in Canada, you should study in Canada, but it is not easy to manage all the expenses for living and studying, considering that as a student you can only work part-time, maximum 20 hours per week.