Poland is a country in Central Europe with an area about the size of Italy, but with a population of no more than 40 million. The capital is Warsaw, the currency is the zloty and the official language is Polish. Thanks to the continuous development of the country, more and more people want to move to Poland.
Poland joined the EU in 2014. The number of immigrants is about 800,000 (2% of the population).
According to the GUS, (Polish Central Statistical Office), the average pre-tax income in Poland in 2022 is 6,480 zl per month or about 4500 zl net (about €950). If this seems low to you, keep in mind that the average cost of living in Poland is also lower than in most Western European countries.
Recently, however, prices have risen and the living conditions of people with the lowest incomes have worsened.
Poland has become an increasingly popular destination, both as a place to work and study (there are many European students), and many multinational companies decide to open a branch here.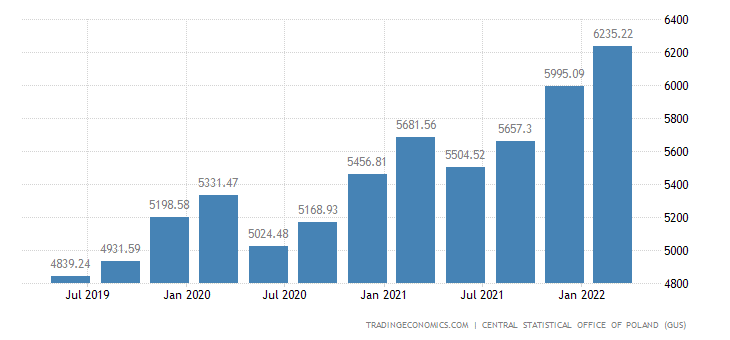 How to move to Poland
Citizens of non-EU/EFTA countries not listed as visa-free countries must apply for a visa to enter Poland.
There are two types of visas:the Schengen visa or a national visa.
The Schengen visa (visa C) is valid in the Schengen area and allows its holders to stay in the territory of all Schengen countries for a maximum of 90 days within a total period of 180 days 
The national visa (Visa D) allows its holders to stay permanently on the territory of the Republic of Poland for the duration of the visa's validity, i.e. up to one year. It also entitles to travel to other Schengen countries.
A visa may be issued for the following purposes:
To obtain a visa, you must:
Citizens from EU/EFTA countries can move to Poland and look for work without having to apply for a visa. If you want to stay longer than 3 months, you will need to obtain:
1.Residence certificate, (czasowe zameldowanie), you must go to the district or city office (urząd dzielnicy / urząd miasta) with a ID and a lease agreement to obtain the residence certificate.
2.Residence permit, (karta pobytu obywatela Unii Europejskiej), in order to obtain it, you must submit the application to the relevant voivodeship and prove a valid reason for your stay (employment contract, studies, etc.). Within a few days you will be issued the temporary residence permit (karta okeślonego pobytu obywatela). It lasts for 5 years, after which the permanent residence permit (karta stałego pobytu obywatela) is issued.
3.Pesel, (Powszechny Elektroniczny System Ewidencji Ludności), which is an 11-digit tax code. Once you get the residence permit, you need to go to Urząd dzielnicy / Urząd miasta to get your Pesel.
How to move to Poland, useful resources
Moving to Poland, finding accommodation
After you have spent the first time in a hostel or in a room booked from your country, you need to start looking for permanent accommodation. You can start your own search, but in this case you will have to negotiate with the owners and you will need to know Polish, as they often do not speak English.
If you are negotiating, you must be quick to close the deal if you are interested. If you have not signed anything or put down a deposit, the owner is free to rent the house to others without informing you. During negotiations it is possible to get a discount, usually about 100 zloty on the rent, but it depends on the type of house and the owner.If you decide to use a real estate agency, it is usually possible to find agents who speak English. The agencies work in 3 different ways:
1.Agencies that require payment of 300/400 zl in advance to show you a certain number of apartments. Do not trust them. These agencies will never show you anything, they are just scammers. In any case, avoid agencies that ask you to pay money to show you apartments.
2.The landlord pays the agency's fee. When you sign the contract, you only have to pay one or two months' deposit.
3.You have to pay the agency's fee (which is usually equal to one month's rent) plus the usual one or two months' deposit, which is payable to the landlord and returned to you when you leave the apartment.
Undoubtedly, housing costs in Poland are lower than in other European countries, but in recent years rental prices have increased and continue to rise. The price of a studio apartment varies greatly depending on the city and location, but keep in mind that it can range from €400 to €800 per month in the more expensive cities like Krakow, Warsaw and Wroclaw.
A room can cost between €200 and €400 per month. One thing you should pay attention to is the type of heating in the apartment, which can be gas, electric or MPEC (municipal central heating). Avoid electric heating at all costs, as it is very expensive.
Due to the increasing demand for housing, finding affordable apartments in cities like Warsaw, Krakow and Wroclaw has become a nightmare.
The most difficult time to rent an apartment is from August to the end of October, when students – and there are many of them – are looking for accommodation. Most students or young workers live in shared apartments, at least until they can afford to live alone.
Polish real estate sites
Below the most popular websites for real estate:
Health care in Poland
In Poland, public health care is guaranteed for all residents. Even the unemployed are included in the health care system and can receive medical treatment.
There are also many private medical centers and hospitals in Poland that guarantee good treatment, short waiting times and the possibility to communicate in English. Often large companies offer their employees private health insurance as an additional benefit.